Whoo Hooo I am getting it done on Friday! Wow so much has happened this week. I think tomorrow I will blog about everything in more detail and update about my Princess with what happened at school.
So on to FIVE QUESTION FRIDAY!!!! brought to you by
Mama M
. So hop on over to her blog and check it out if you want to join in!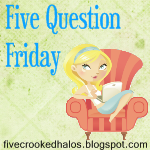 1. What are you most afraid of?
This is one of the one questions my daughter ask me a lot. I always answer spiders and lizards and all those things with scales and lots of legs. But honestly those things don't bother me at all.
I am not afraid to die. I know when I die I will get to meet my heavenly father and I am excited about that. I will get to be with my loved ones that have gone before me. I will get to see my Grandma Rose and the garden I asked her to build the day she died. I will get to see my Grandma Bristow again. I miss those two dear women so much every day. I honestly long for the day that I will die and be reunited with them and my God.
I am afraid that my husband when he dies will not be in heaven with us. That has always been my fear. I long for that day that my husband will say that he believes in the God that I do and that he wants to go to heaven to live eternity with us. I think deep down that he does believe it but he just doesn't want to admit it. I want him in heaven with me. It isn't selfish to want that. I think that as his wife it is my duty to help him see the good in the almighty father that i believe in. It is a long road but I am surly going to see that we get to the end of it together.
2. Do you use a flat iron or curling iron?
I use both. I use a curling iron when i want curls and a flat iron when i want to go super straight. I have naturally wavy hair, stick some moose in it and off I go to get the waves and the lift I want and I am good. But when I am going out I either want the big curls or it super straight.
3. Hands-free or phone to the ear?
I am a phone to the ear gal. I have a blue tooth thingy but I can never figure out how to use it. So if I am on the phone I am on it with my and at my ear chatting it up. I love to talk on the phone but sometimes I rather just text or instant message.
4. Do you have a matching bedroom set?
We do have a matching bedroom set. It is Black with hot pink stripes. The sheets are white and black and hot pink stripes. I like it but I think we are about to go red and black in the bedroom or chocolate and turquoise.
5. Do you believe in the paranormal?
Yes I do. When Princess was about a year old and her cousin Cairssy (she was almost 3 at the time) was at our apartment and the girls where playing in her bedroom. Our apartments where across the street from the cemetery. Cairssy came running out of the bedroom yelling I don't want to play with the boy in the closet. We went in there and told her and showed her there was no boy in the closet. Princess wouldn't go in her room for a long time after that day. We never really thought anything about it until later when we started reading and watching shows about the paranormal.
I hope that everyone has an awesome weekend!!!