Welcome to my 5th installment of Five Question Friday. Today its Valentine's Style. It is brought to by
Mama M.
Hop on over there if you would like join in.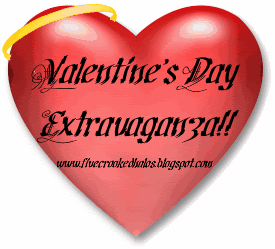 1. What is the one thing your love does for you that you can't live without?
Wow this is a tough question. He does a lot of things for me. I could live without them but it just wouldn't be the same.
I guess if I say how he makes tea. He makes the best tea. Or how he makes that perfect grilled cheese sandwich.
The little things in life that I enjoy that he does for me is what I couldn't live without.
2. When did you know your love was "the one"?
I knew he was the One when he kissed me for the very first time. Although I didn't let him know.
3. Does your love have a special ringtone on your cell?
Nope he doesn't. He hardly calls, I am normally the one that calls him. He will instant message me from work.
4. What are you attracted to most in your special someone?
His smile and his eyes. They will melt your heart. I have always loved that smile of his.
5. Did you know when/where he/she was going to pop the big question?
Nope I sure didn't. He just asked one day out of the blue.