I hope everyone has a great weekend!
This Blog hope is brought to you by Mama M. If you would like to join in this blog hop head on over to her blog or you can link up here on mine.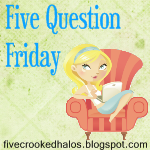 1.
How much time do you spend on the computer a day?
I spend way to much time on the computer. This last week i seemed to spend more time than usual because I redid my whole blog myself. Let me tell you for my first attempt I am pretty proud of myself. :) It was far more work than I expected it to be.
2. Will you pay for your children's college or raise them to pay for their own way?


We haven't thought about this question. Both of us have had to pay for our college that we have done. I am not so sure that when the time comes for Sephy that we will be able to pay for her school. But I know we will help her as much as we can.


3. Have you ever been in a car accident?
I have been in 3 that I can remember. One when I was little and seat belts where not required to be worn and me and my sister where thrown onto the floor bored of the car and the ambulance was called. We where okay just had some bumps.
2nd one was the night of my bachelorette party. My aunt and I where on the way to my grandma's to take my little cousins so she could watch them so we could have my party and we where at a red light and where rear-ended so hard that it moved the tires under the back seats. We where all okay for the night but after that we had some problems. The girls where fine with out a scratch on them.
The last one was here recently December 9th 2009. We where on our way to Mc'D's for dinner before church and we where rear-ended at a red light again. (whats up with people and not paying attention?? ) It did over 3k worth of damage to my poor van. It took almost a month to get it fixed. I ended up having problems with my back and my leg but now everything is fine.
4. What is your favorite book?
My favorite all time book is Lord of the Flies. I am not sure quite why but it so my favorite book.
I also love reading children's books. I like the joys they bring to little kids.