Thank goodness it is Friday!!!
I have to say that this week has been an intresting one to say the least. I am so glad its over.
We are having a date night tonight too!!! Whoo Hoo.. Its been since Thanksgiving since we have gotten to go out alone. So this will be a nice treat.
Okay.. On to 5QF.. If you would like to join in hop on over to Mama M or you can link up at the bottom on my post or you can just leave your answers in the comments if you don't blog and want to join in.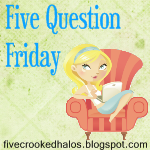 1.
What's your guilty pleasure?
I am gonna have to say Brownies, I love me some brownies. If I am sad they make me happy.. they can come in more than one flavor.. mmmm.. now its making me want a brownie and I can no longer eat them :(
but you know what I betcha I will end up eating one this weekend just because its hard to give up that one true love...... the ooey gooey brownie with all the nuts and caramel on it... ohhhhh i am so gonna have to get one this weekend... just one can't hurt, or can it??
2. What is your favorite TV series?
I actually have a couple of them, that I can't miss and if I miss them I get upset.
Unhealthy obsession for sure..
Second is True Blood
Third is Big Love
Fourth is NCIS and NCIS LA on Tuesdays.
Recently I found Nurse Jackie and United States of Tara and I have watched both of the first seasons in like 3 days. I think when they start back up in March it will be a must see too.
I DVR all of them just in case.
3. Can you speak any foreign languages?
I can speak baby language well.. lol.. but foreign ones not to much, I know some German, some French, some Mandarin, and some Spanish, but not enough to hold a conversation.
4. How many pairs of shoes do you own?
This is a rough estimate.. like around 20 pairs. I actually gave away like 15 pairs back in September when we moved from Oklahoma to Mississippi. I need some new ones, especially for the spring and summer.
5. What's your favorite kind of M&M's...peanut, almond, straight up regular, etc.?
Favorite is just the plain ones. I like the peanut ones, but I will choice the plain ones over any of them.
Now they have a coconut one that I really like they are awesome, its like a mini mounds bar in your mouth. Yumm..
I hope Everyone has a great weekend and thank you for stopping by!!!