Welcome Follow Friday Blog Hoppers and 5QF!!
I am glad that you stopped by. Leave me some luv and I will hop on over to your blog and follow you too!!
I hope that you have a great weekend!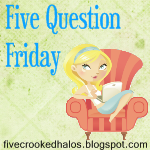 Click on the Either one of the buttons above to join in the fun! If you are a new follower let me know and I will follow back! I love new followers and Love to make new friends!
FIVE QUESTION FRIDAY!!!
1. What was the first car you owned?
It was a 1994 Pontiac LeMans Hatchback
2. What song are you embarrassed to know the lyrics to?
You have lost that loving feeling from Top Gun. I don't know if that is the title of the song but I know those lyrics.
You've lost that loving feeling.
whoo oh ohhh that loving feeling.
You've lost that loving feeling now its gone gone gone. whoo ooo ohhh
I think that is how it goes, hahaha I had to think about it and my husband was no help cause I was singing it and he just laughs.
3. Have you ever had stitches?
yes in the bottom of my foot. I was around 5 and I stepped on a thorn and it went through my shoe and into my foot and broke off. I had to taken to the ER and they had to take it out. I still have the scar.
4. What was your first job?
It was at Six Flags over Texas and I got it on my 16th Birthday! Well I got the job before then but went to orientation on my birthday. Everyone thought I was crazy for going but I was like hey I have to have a job or I won't get a car. I was in the Game department. Even to this day I still can't play the games and win, but I can sure take your money when guessing your weight and your age. =)
5. Who is your favorite Sesame Street character?
My favorite Character has always been Snuffy.